Over the past eight years, The Brilliant Minded Women Organization and Foundation have been able to financially support the mission of providing for and helping with the growth of scholars, contributing to the growth of other charities and organizations. All of this, through scholarships, aids, mentorship, and learning opportunities with the same perseverance that we first set out on the path for betterment.  Our cause is universal, and we will continue to strive to achieve our goals towards the upliftment of leaders of tomorrow.
A brief snapshot of the force that the Brilliant Minded Women
Organization and Foundation have come to be reckoned with
$3,500.00 – "Canadian Center For Abuse Awareness" Charity:

Provided Cheque For $2000.00 Toward Charity Needs
Support The Cost For 10 Guests Attending Annual Gala Dinner & Gifts
Donated Clothes & Accessories For Women & Children
Helped The Charity To Organized Their Warehouse

$1,500.00 – "Think & Grow Reach" Institute

Provided The Coaching Program For 10 Students With Mentor & President, Satish Verna

$1,000.00 – "Trust 15" Charity

Support The Cost For 10 Underprivileged Girls To Attend Annual Gala Dinner & Provided Gifts For Them

$30,000.00 – Organized Coaching & Mentorship Sessions & Trainings With International Speakers:

Christian Steinkeller &
Stephan Steinkeller
Michelle Peavy
Sharon Lechter
$10,000.00 – Organized Educational Events & Sessions:

Think & Grow Rich Institute (Satish Verna)
Financial Companies
Insurance Companies
Psychologists & Physiotherapists
Real Estate, Mortgages & Investment Companies
Networking Business Leaders (Shane Morand, Patrick Klimczak, Andre Ratajczak, Rain International Corp., Visi Corp.)
Health & Wellness Leaders (Sabina De Vita, Joanne Pearce, Danuta Domurad, Gabriela Nowak, Fern Wolf)
Hair & Makeup Sessions – (Inglot; Ivana Make-Up)

$18,000.00 – Provided Scholarships

Natalia Jureczek – $17,000.00
Olivia Kawecki – $500,00
Marilyn Marco – $500,00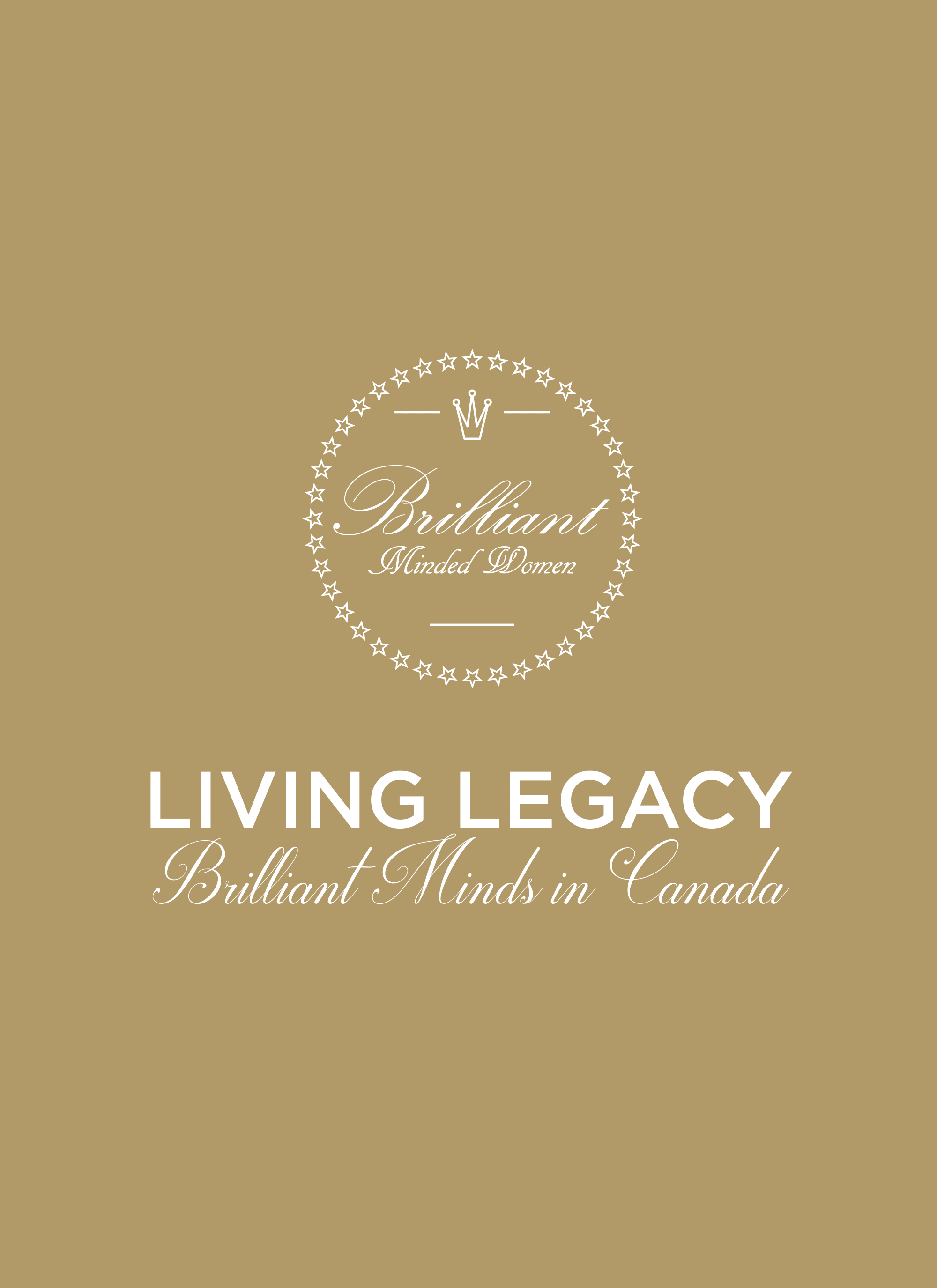 This album exposes the life lessons, experiences, and wisdom of exceptional Canadian women with ethnicities spanning over 30 countries. It aims to inspire and encourage people of all walks of life to follow their dreams, fulfill their potential and be the change they wish to see in their community and the world.
The Brilliant Minded Women Organization and Foundation extends a big thank you to all the many generous individuals who contributed to the creation of this album. It could not have been done without them.
THE GOAL BEHIND PROMOTING, SELLING & DISTRIBUTING
THE "LIVING LEGACY BRILLIANT MINDS IN CANADA" ALBUM
Our mission as an organization and foundation is to acknowledge the achievements and leadership of women, to support them in the development of their aspirations, and to celebrate how much they matter. The tireless efforts of our team, along with countless sponsors and volunteers, have enabled us to achieve our objective in a unique, creative and tangible form that is a testament for generations to come.
Raising awareness and inspiring readers through the stories of Brilliant Minds who have been great visionaries and achievers in their respective life and field of work, while constantly contributing to promoting the development of society, is the primary goal of this album. The funds raised through the sale and distribution add to our relentless efforts to realize our mission as a foundation and support the noble cause and the long yet rewarding journey we have partaken in.
The sale of the first edition of the "Living Legacy Brilliant Minds in Canada" Album
helped achieve:
$3,000.00 – Support The Cost Of "Courageous Living" Mentorship Course For 10 Student
$242,000.00 – Creating "Living Legacy Brilliant Minds In Canada" Album & Printing 20,000 Hard Cover Copies (Educational & Inspirational Pr0ject Toward Leadership Of Today & Tomorrow)
$5,000.00 – Creating & Printing 2,000 Biographies Of 100 Awardees Of Brilliant Minded Women Organization (Educational & Inspirational Project Of Introduction 100 Exceptional Women From Over 30 Countries
$38,300.00 – Provided Scholarships

Nicole Kostrubiec- $17,000.00
Natalie Castro -$6,000.00
Nicole Ballve -$5,000.00
Emilia Torres -$5,000.00
Olivia Kawecki; Karina Grzywa; Margaret Cordova; Maria Lima; Mariana Jimenez; Giovanna Romero; Valerie Villalba – $3.500.00 (= 7 Students X $500.00 Each)
I.D.A. Ballet School – $1,500.00
Support Cost For Students/Performers – $300.00

Support Toward Communities & Their Organizations

$200.00 – Donated To "Heart To Heart" Non For Profit Organization Toward Free Christmas Eve Dinner
$200.00 – Donated To "Million Dollar Smiles" Non For Profit Organization Toward Christmas Gifts For Children
$ 200.00 – Supported Cost Toward New Baner For School Nr 105 In Warsaw, Poland
$10,000.00 – Supported The Cost Of Translations Of The Album To Different Languages
$3,750.00 – Supported Cost For Female & Male Students Attending Annual Galas & Vip Events
Attended Events Toward Found Reising
Helped Organized & Mentor New Comers Events
Donated Gifts; Dresses, Clothes For Unprivileged Families
Organized Donations & Delivered To The Communities
Organized Goods & Gifts (Over 800 Lbs & $30,000.00 Value) For Underpriviladged People.
Spoke & Mentored At The Public Events About Leadership Skills (Locally & Internationally)
Volunteered At The Events Toward Good Cause & Fund Raising
$24,000 – Provided Scholarships:

Nicole Kostrubiec- $17,000.00
Andrew Sudyk -$2,200.00
Nesrine Thabet -$1,700.00
Evelyn Bailey -$1,000.00
Margaret Cordova – $800.00
Mark Sudyk – $200.00 and Max Kostiw – $200.00
Clara De La Prava – $300.00; Eva Sibaeva -$300.00; Sarah Whilock -$300.00

 $16,200.00 – Gave Support to Communities and Organizations

$3,000.00 – I.D.A Ballet School
100 Copies of Living Legacy Album – "Million Dollar Smiles Organization" – raising $3500.00, toward sick kids playgrounds
$3,000.00 – "Veteran Retreats Foundation" toward supporting veterans' children
$1,500.00 – "Canadian-Polish Congress" toward supporting youth
$1,000.00 – "Three Beats Foundation" toward supporting children who lost their parent to cancer
$1,000.00 – "Toys Drive Thru Foundation" toward Christmas gifts for children
$1,000.00 – "Nana Couture" – support donation of 24 dresses for Ballet School
$1,000.00 – Mona Amine Osman – toward provide help for Unprivileged Lebanese Families
$1,000.00 – "Mind and Body Solution" toward treatments supporting mental health well being
$200.00 – "Ontario Trillium Foundation" toward Trillium Hospital

$32.000.00 Additional Accomplishments'

$5,000.00 – Designed and Printed "Gold Book of Donors and Sponsors" Leather Hard Cover 20 Copies (Toward Acknowledgment of Exceptional Supporters)
$7,000.00 – – Recognized and Awarded 7 Outstanding Sponsors with Order of St. Stanislaus
$20,000.00 – Supported Cost of "Brilliant Talks" Mentorship Events open to Public
Supported and Helped Seniors with Daily Routines and Needs.